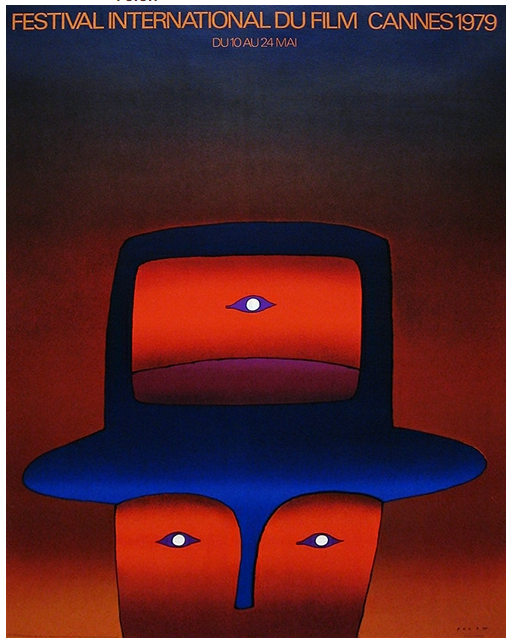 In honor of Cannes, here's one of my favorite editions of the annual Cannes Film Festival poster by an extremely whimsical and popular artist: Jean-Michel Folon. Born in Belgium in 1934, Folon attended architecture school, but abandoned that career in the 1960s and moved to New York and then Paris to work on his art. He quickly distinguished himself as a talented painter and was known for watercolor paintings that featured wide graduations of color and recurring symbolic figures with simple outlines. Two of the most frequent motifs in his work were a featureless, hat-wearing man with glowing eyes in a deserted urban landscape, and a bird alighting from an outstretched hand.
While producing a large body of work in many mediums, such as watercolor, silkscreen, sculpture and glass, Folon is best remembered for his iconic posters and his animation for French television. His designs for Tarkovsky's Stalker, Woody Allen's September, and Roman Polanski's Quoi? [Forbidden Dreams] are especially memorable. He also acted in several films. With his friend, composer Michel Colombier, Folon created the credit titles for Antennae 2, the French public television station, which were broadcast from 1973 to 1984.
Here, for the 1979 Cannes Film Festival, he uses the same little hat-wearing character as seen in the animated Antenne film and a complex twelve color background gradient, which he obsessively supervised until it was printed to his satisfaction. In his naive, surrealistic style, he transforms the hat into a movie screen with a third eye glowing in the forehead. Yes, cinema does help you reach a higher consciousness! Towards the end of his career, he moved to Monaco and devoted himself to sculpture and designing for Amnesty International and other human rights groups.