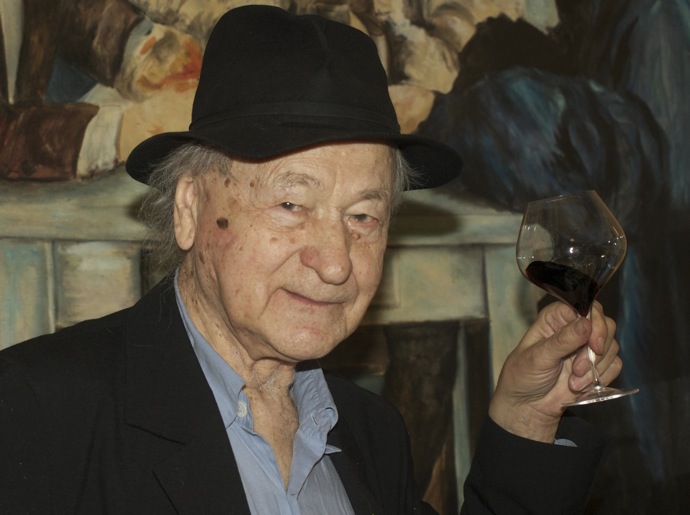 A portrait I took of Jonas Mekas last March. A toast to cinema!
This makes me so happy that I had to share it right away: Jonas Mekas has a new website:
http://jonasmekasfilms.com/
The introduction alone left me grinning from ear to ear.
The video section is an incredible treasure trove, and an important archive in its own right. The list of those featured reads like a who's who of the avant-garde: Carl Gustav Jung, Salvador Dali, the Velvet Underground, Frank O'Hara, John Lennon and Yoko Ono, George Maciunas, Patti Smith, Nam June Paik, Robert Frank, Philip Glass, Carl Dreyer, Ken Jacobs, Stevie Wonder, Jackie Onassis (!), Timothy Leary, Stan Brakhage and more.
There's also a section of Jonas's poetry, in Lithuanian and in English. People often forget that Jonas is also a poet, but after reading some of his work it's clear that poetry is essential part of his DNA as an artist.
But what I love most about this website is that you get a sense of Jonas's approach to art and life, which is joyful and boisterous and spontaneous and sensual and rife with childlike wonder. Never infected by a deadening professionalism, he looks at the world generously (and hard) and is able to communicate the fragile beauty that is cinema (and life) to those willing to see it. Whenever I see a film by Jonas, I am always struck with the desire to drink up that beauty with my entire being.
Jonas's new website was designed by Andy Doro, who aside from being a good friend, also helped me with the coding for this website. Congrats Andy! I raise my glass of Švyturys to you.