If you routinely draw your fashion inspiration from films (as I do), you'll notice that one classic item of clothing keeps appearing over and over: the sailor-striped shirt. Known alternately as the marinière, the Breton shirt, and the telnyashka in Russia, the simple white and navy blue pullover is an iconic fashion piece with international appeal. Originally created for the French navy—the stripes helped spot seamen who had gone overboard—the style was co-opted by Coco Chanel, and the rest is fashion history. Perhaps it's no surprise that the shirt has been equally prominent onscreen: its graphic horizontal stripes read well on film, and both the masculin and the féminine look good in it. Below are some of my favorite striped-shirt in cinema moments:

Zouzou [Allégret, 1934]. Jean Gabin sports the classic French naval uniform while Josephine Baker dons the pom-pom hat.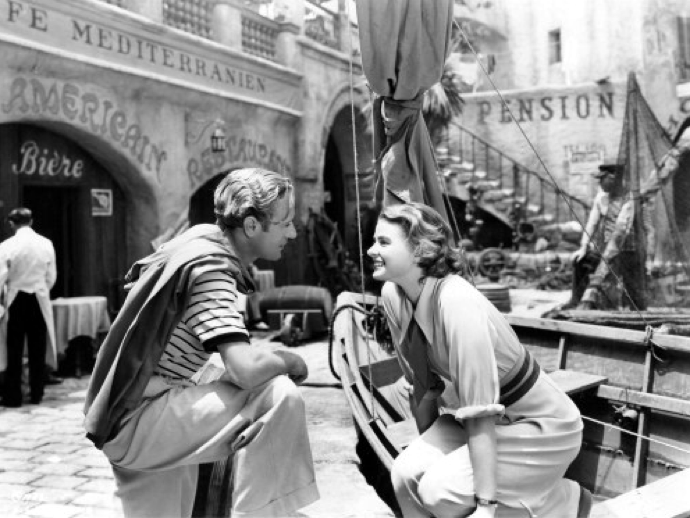 Intermezzo [Ratoff / Selznick, with cinematography by Gregg Toland, 1939]. Leslie Howard is a virtuoso violinist in a sailor shirt? Of course Ingrid Bergman would swoon.

Breathless [Godard, 1960]. A bit of graphic wit from Godard: Jean Seberg and Jean-Paul Belmondo's stripes go up, down, and across.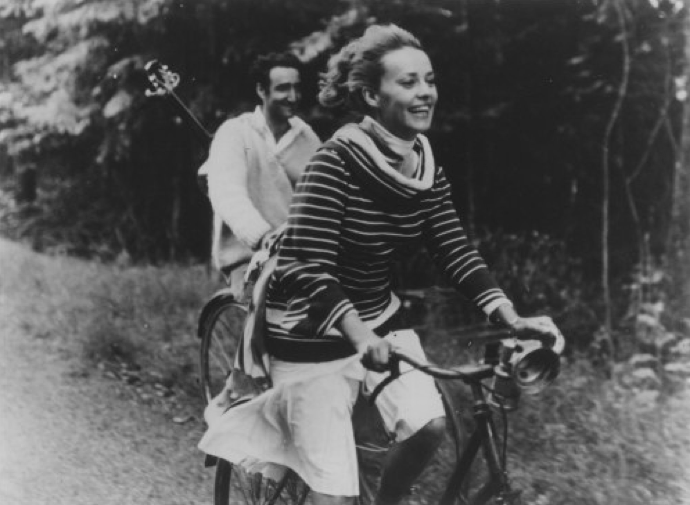 Jules and Jim [Truffaut, 1962] Jeanne Moreau looks blissful in this perfect-for-cycling sweater.

Death in Venice [Visconti, 1971] Björn Andrésen as the beautiful Tadzio wears the shoulder-buttoned version.

Coco Before Chanel [Fontaine, 2009] This one's easy, but I do like the way the film immortalizes Coco's borrowed-from-the-boys style.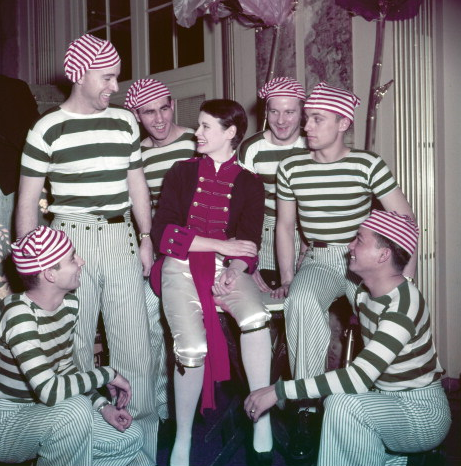 This photo is not from a film, but is so awesome that I had to include it. Who wouldn't want to be Gloria Vanderbilt surrounded by um, stripes in this photo? [From the 1954 "April in Paris" ball at the Waldorf-Astoria]
Of course, seeing all of this striated loveliness begs the question: where can one obtain the perfect sailor shirt, and the waves of cool that come with it? My secret source, which is not-so-secret anymore since this piece in the New York Times, is Kaufman's Army Navy. Shopping at this chaotic, one-of-a-kind New York institution is an experience altogether unequalled.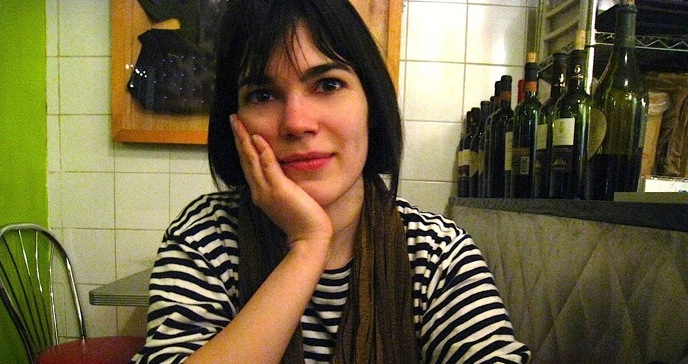 Wearing my Russian naval shirt from Kaufman's—perhaps the easiest piece of clothing I own.
If you don't live in New York, I'm sad for you, but you can order the high-end French original from St. James, or the easier-on-the-wallet Russian version from I Sea Stripes. Both are authentic (because really, do you need another striped shirt from the Gap?) and evoke the effortless charm that only stripes can.
In January 1914, when Chaplin had been at Keystone for a few months, Mack Sennett asked him to come with some new ideas for gags. It was at this time that Chaplin invented the character of the tramp.

Kid Auto Races At Venice [1914], in which Chaplin's "Tramp" character makes his debut.
I was in my street clothes and had nothing to do, so I stood where Sennett could see me. He was standing with Mabel, looking into a hotel lobby set, biting the end of a cigar. "We need some gags here," he said, then turned to me. "Put on comedy make-up. Anything will do."
I had no idea what make-up to put on. I did not like my get-up as the press reporter. However, on the way to the wardrobe I thought I would dress in baggy pants, big shoes, a cane and a derby hat. I wanted everything a contradiction: the pants baggy, the coat tight, the hat small and the shoes large. I was undecided whether to look old or young, but remembering Sennett had expected me to be a much older man, I added a small moustache, which, I reasoned, would add age without hiding my expression.
I had no idea of the character. But the moment I was dressed, the clothes and the make-up made me feel the person that I was. I began to know him, and by the time I walked on to the stage he was fully born. When I confronted Sennett I assumed the character and strutted about, swinging my cane and parading before him. Gags and comedy ideas went racing through my mind.
The secret of Mark Sennett's success was his enthusiasm. He stood and giggled until his body began to shake. This encouraged me and I began to explain the character: "You know this fellow is many-sided, a tramp, a gentleman, a poet, a dreamer, a lonely fellow, always hopeful of romance and adventure. He would have you believe he's a scientist, a musician, a duke, a polo player. However, he is not above picking up cigarette butts or robbing a baby of its candy. And of course, if the occasion warrants it, he will kick a lady in the rear — but only in extreme anger!"
– Charles Chaplin, My Autobiography [1964]
Gatsby guys and gals were out in full swing last weekend for the Jazz Age Lawn Party on Governor's Island. I ab-so-lute-ly adore this soirée for two reasons: Not only is it a fabulous excuse to don a vintage ensemble, but because people take such care in getting all the little details right — from phonographs to antique cars to turn-of-the-century wooden stools from the World's Fair. When the music starts up and the hooch starts flowing, you really do feel like you're on a movie set or that you just might have traveled back in time.
First things first: outfit time! For my ensemble, I looked to the silent screen goddesses for inspiration, turning to Ms. Lillian Gish & Mary Pickford and a host of other nameless lovelies (Do a Google Image search for Vogue and 1920's. DO IT NOW. By the way, when did Image search become so much more heart palpitatingly awesome?). My favorites, below: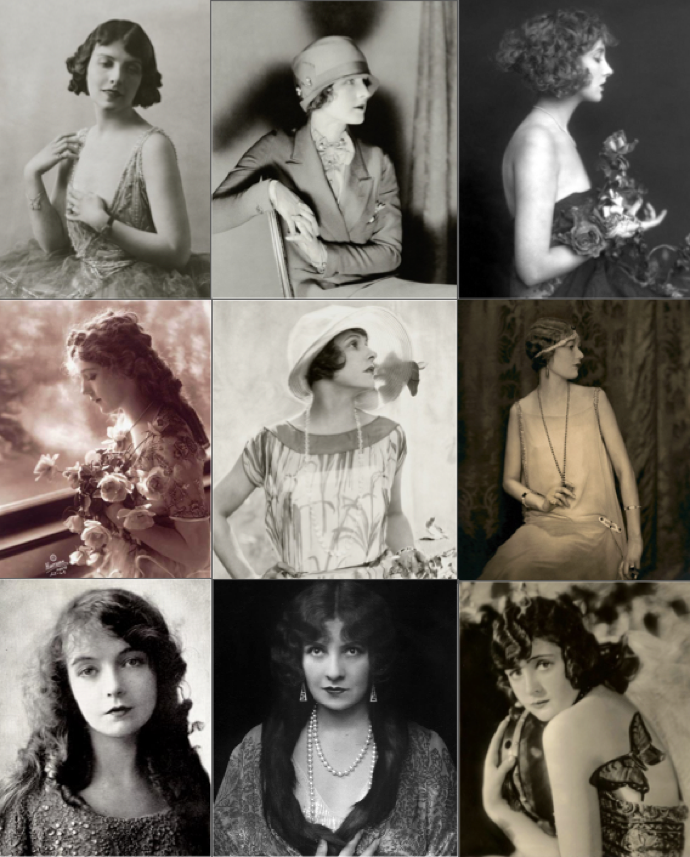 Norma Shearer (top row center), Mary Pickford (middle row left) and Lillian Gish (bottom row left), three of my favorite silent stars.
Because I am obsessed with authentic vintage (not vintage-inspired, but The Real McCoy) I went to April's edition of the Manhattan Vintage Clothing Show — a dangerous and wonderful extravaganza in which I am reduced to sobbing child who can't have everything. After searching endlessly for a frock in good condition, I found a floaty 1920's garden party number, along with some matching toe-tappers.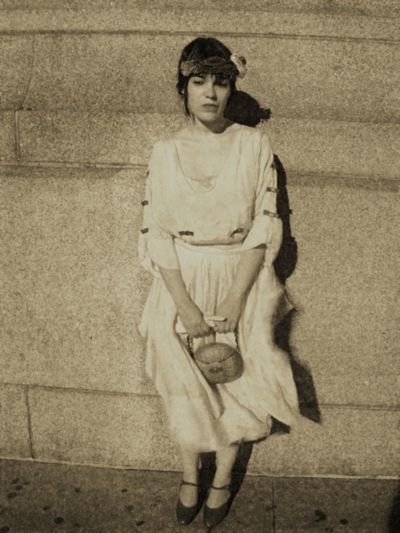 Vintage dress and shoes from Another Man's Treasure. (This boutique is based in NJ, and the owners are wonderful people.) The bag looks like a tortoiseshell and the gloves are courtesy of Jennifer's grandmother.
And now the party: In addition to the fantastic music, I had the pleasure of meeting some true clothing connoisseurs. Watch and learn, vintage fashionistas: Heidi is perhaps the best-dressed woman in the city, period. (pun intended.)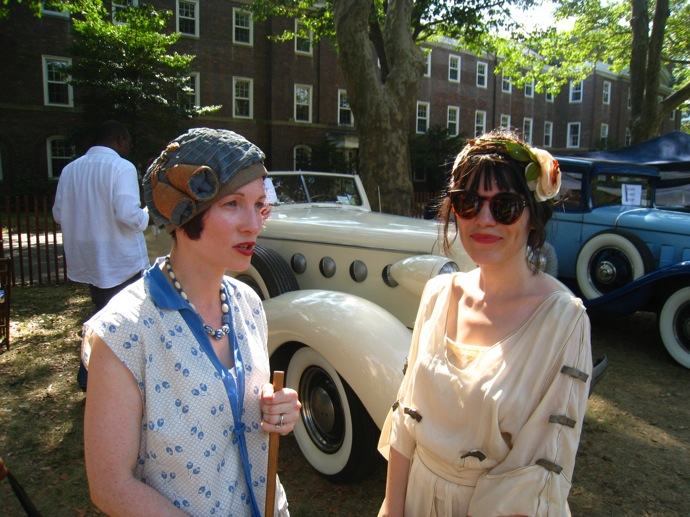 There was also a Bathing Beauties & Beaus Promenade, which took some guts to enter. But a girl's gotta do what a girl's gotta do (and truthfully this did not take much arm-twisting).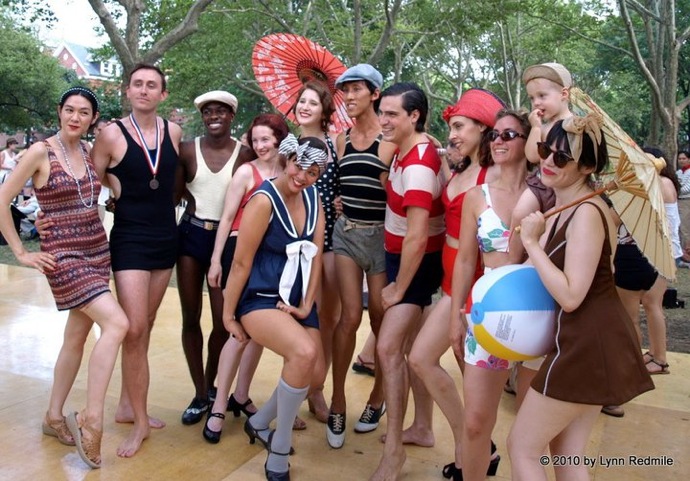 The Bathing Beauties and Beaus, en masse. And, oh hey, here's a video of the whole shebang!
For participating in the promenade, I received a copy of Zelda, the magazine dedicated to vintage nouveau. Among other delightful treasures and tutorials — how to pin-curl your hair! — it features interviews with Robert Osborne of TCM and the last surviving Ziegfeld girl, Doris Eaton Travis. An interview with 1930's starlet Marsha Hunt (who was quite the dish) really gets at why I go to such great lengths to recreate the past, and why we look to old movies for inspiration to create a better life: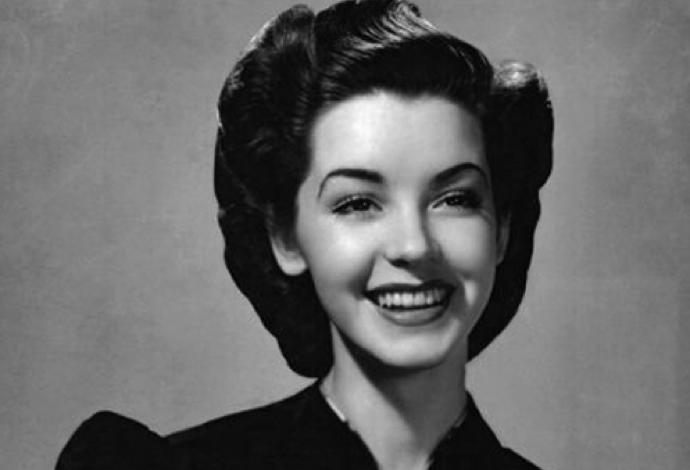 I generally and genuinely thing the old was better, was more becoming…I'd carry it beyond clothing and into music and manners: how we treat each other…and so, if you have a love of given period, follow it. You can invent your own styles of living that are consistent with what was worn then.
Well said, Ms. Hunt. If this speaks to you and you think the past was better than the present, then it's up to you to recreate it. This is partly why I think true cinephiles cherish old movies so much, which teach us a few things, among them how to dress, how to dance, how to act and how to live.
P.S. Start brushing up on your Charleston — there's another Jazz Age Lawn Party in August! I'm already planning my outfit, which might involve sequins. Stay tuned.
art + video
It's Armory Week, and the number of openings, events and parties in the next few days makes my head spin. Aside from the usual mainstays, the new kid on the block this year is the Independent. Born out the ashes of X-initiative, it offers an alternative to the inescapable shopping mall ambiance of the art fair — there's even a panel on gluttony! And a film program too. Check it out here.
Scope also has a video program, with work by Martha Colburn, George Kuchar and fashion-y films. Sashay!
design
Check out the next generation of Polish film poster design.
fashion
Look who's copying a page from the Vezzoli playbook: Agyness Deyn deigns to appear in a McDermott and McGough film.
film reviews
Andrew Grant (nom de blog: filmbrain) reviews The Ghost Writer, and thinks it's pretty good.
You should see it, especially since all proceeds from the film go to the Roman Polanski legal defense fund. (Kidding!)
mystery flavor
My favorite posthuman Andrei Codrescu is anti-Avatar, and pro-zombie. Deliciously brainy as always.

My friend Ziyan and I as zombie-vampire hybrids. Kristen Stewart, eat your heart out.
new york
Movie program ephemera from the 8th street Playhouse, which I remember going to as a little girl. Thanks to reader Jack for the tip.
photography
Andy Warhol: Unexposed Exposures just opened at Steven Kashar.
If the Factory had had a facebook page, these would be the pictures that they would post to their wall. Lots o' pics online too.
watch online
The first and only truly Beat film Pull My Daisy (Frank and Leslie, 1959) is on Google Video.
"If we go beyond a few rudimentary signs (eccentricity, classicism, dandyism, sport, ceremony) can clothing signify without recourse to the speech that describes it, comments upon it, and provides it with signifiers and signifieds abundant enough to constitute a system of meaning?" -Roland Barthes, The Fashion System
Some fashion designers create clothing and some create universes. Alexander McQueen did the latter, and he often drew directly from cinema for inspiration. Citing influences such as Hitchcock and Kubrick, his fashion shows were elaborately produced spectacles that often evoked scenes from classic movies. Fantasy, horror, noir, Merchant-Ivory costume drama — all were fodder for his innate brand of showmanship. It was also impossible to reduce a McQueen collection to the usual trendspotty rhetoric, i.e. "brown is the new black" or "pencil skirts are back," or "another season of dominatrix heels." His clothing wasn't about innovations in materials, new silhouettes, or outright sex appeal, although those factors couldn't help but figure in. McQueen was for the girl who wakes up feeling equal parts Siouxsie Sioux and Anne Bancroft, who wears David Bowie eyepaint with an Audrey Hepburn shift dress to a party*, who cultivates the queasily erotic aura of a Manson girl, who chips her own nail polish and rips her own fishnets because she doesn't want to look too "done" but puts her hair up into a chignon just because. A lot of designers mine movies for their source material, but few were as inventive and eclectic as McQueen.
*this is my current sartorial fantasy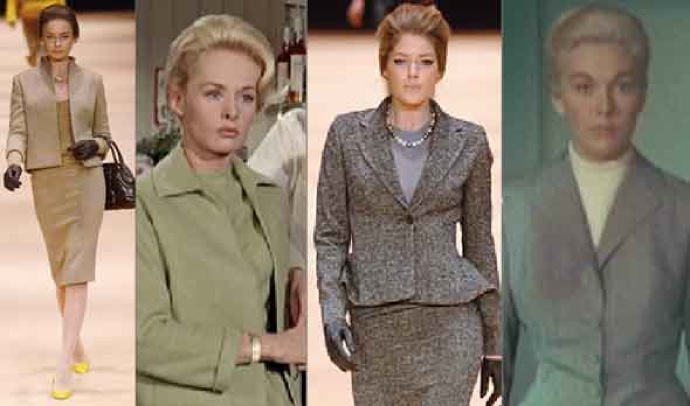 McQueen Fall 2005. Inspired by Hitchcock brunettes-turned-blonde. (Now I want canary yellow shoes.)

McQueen Spring 2007. Inspired by Kubrick's Barry Lyndon.

McQueen Spring / Summer 2004. A re-enactment of They Shoot Horses, Don't They? This is truly breathtaking.