"Is it surprising that prisons resemble factories, schools, barracks, hospitals, which all resemble prisons?" – Michel Foucault, Discipline and Punish
"It was about time that Fuck the police! replaced Yes sir, officer! In this sense, the open hostility of certain gangs only expresses, in a slightly less muffled way, the poisonous atmosphere, the desire for salvational destruction by which the country is consumed." -The Invisible Committee, The Coming Insurrection
Un Prophète has the rare distinction of having been in the right place at the right time. When droves of cinephiles line up to see it when it opens this Friday, they will unfortunately be rather late to the party, for its impact was felt in France last year (and indeed, all the important European film societies showered it with awards quite some ago). If it wins the Oscar for Best Foreign Film, that will only add a shiny American feather to its amply decorated hat, and maybe Audiard will make a film in the U.S. as a result.

Newcomer Tahar Rahim as Malik El Djebana
But what makes this film a cause célèbre in France has nothing to do with the quality of the film itself, although the film will undoubtedly become a classic — it has French Goodfellas written all over it. Un Prophète is important the same way Entre Les Murs [The Class, 2008] was important, because it touches on the changing racial and class dynamics that have been the subject of heated controversy lately, particularly since the appointment of conservative Éric Besson as Minister of Immigration, and his accompanying xenophobic agenda: he is anti-Burka, pro-immigration quotas and re-patriations and thinks that immigrants should have to pass a French language test. (Oh, and schoolchildren should sing La Marseillaise at least once a year.) His policies have led him to be deemed "the most hated man in France" (more hated than Sarko?) and things have only gotten worse since Besson was discovered, in true repressed-politician fashion, to have a secret Muslim girlfriend.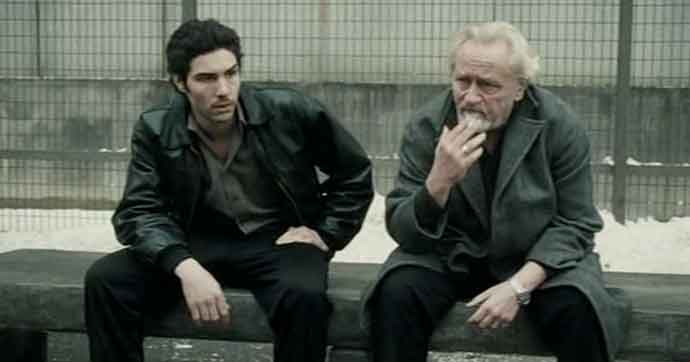 Malik and Corsican mob leader César Luciani [Niels Arestrup]
So what does this have to do with Un Prophète? The film is the coming-of-age story of a young Arab delinquent Malik, who learns to survive in prison by successfully wheeling and dealing with members of the Corsican and Arab gangs that are engaged in a brutal turf war. The socio-political commentary is indirect but it's pretty damn clear: if the prison is a microcosm of society, the open hostility between the two clans mirrors "in a slightly less muffled way" the conflict between ethnic groups and their struggle for domination. The Corsican gang in particular is threatened by the influx of Arab prisoners; the sheer number makes it hard for them to maintain control. Malik is an interesting figure to put at the center of all of this: ethnically ambiguous, he is forced to kill a fellow Arab at the bidding of a Corsican mafia boss [played wonderfully by Niels Arestrup]. That man comes back to haunt him and suffuses the film with a vaguely preternatural / quasi-religious aura (as do the biblically-inflected chapters and the title of the film itself). Un Prophète has started a national conversation about prison reform, and that's momentous and necessary, especially when Sarkozy himself refers to the institution as "the nation's shame." But what Un Prophète really dramatizes, through its parable of an Arab outsider becoming the ultimate insider, is the ascendency of a new polyglot, multi-racial national identity.

The ghost of Reyeb [Hichem Yacoubi]. This strangely reminded me of the ghost who haunts Gena Rowland's character in Opening Night.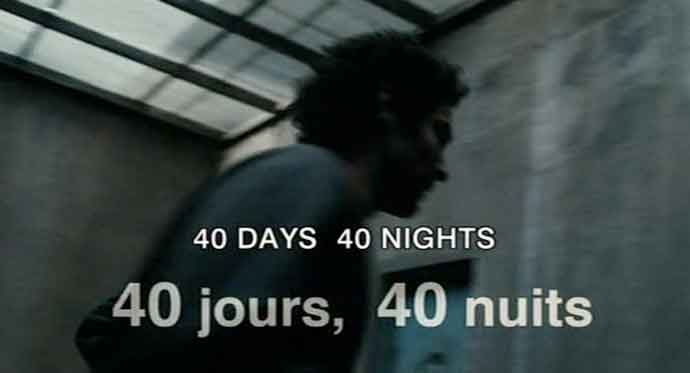 Titles with Biblical references are interspersed throughout the film.
U.S. viewers are likely to only get a sense of the political overtones, as Un Prophète is also a genre piece that also calls to mind recent gangster films such as Gomorrah, Canet's Ne Le Dis à Personne, and the two-part Mesrine. But Un Prophète also deserves to be included in that slippery category of "zeitgeist" films, because it takes on a flammable topic, however obliquely, and acutely presages circumstances to come.